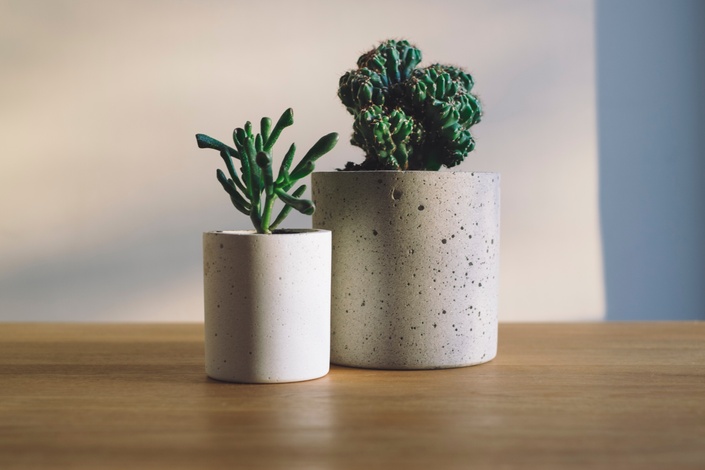 Find Your Simple / The Master Class
an 8-week online course designed to shift your life from chaos to calm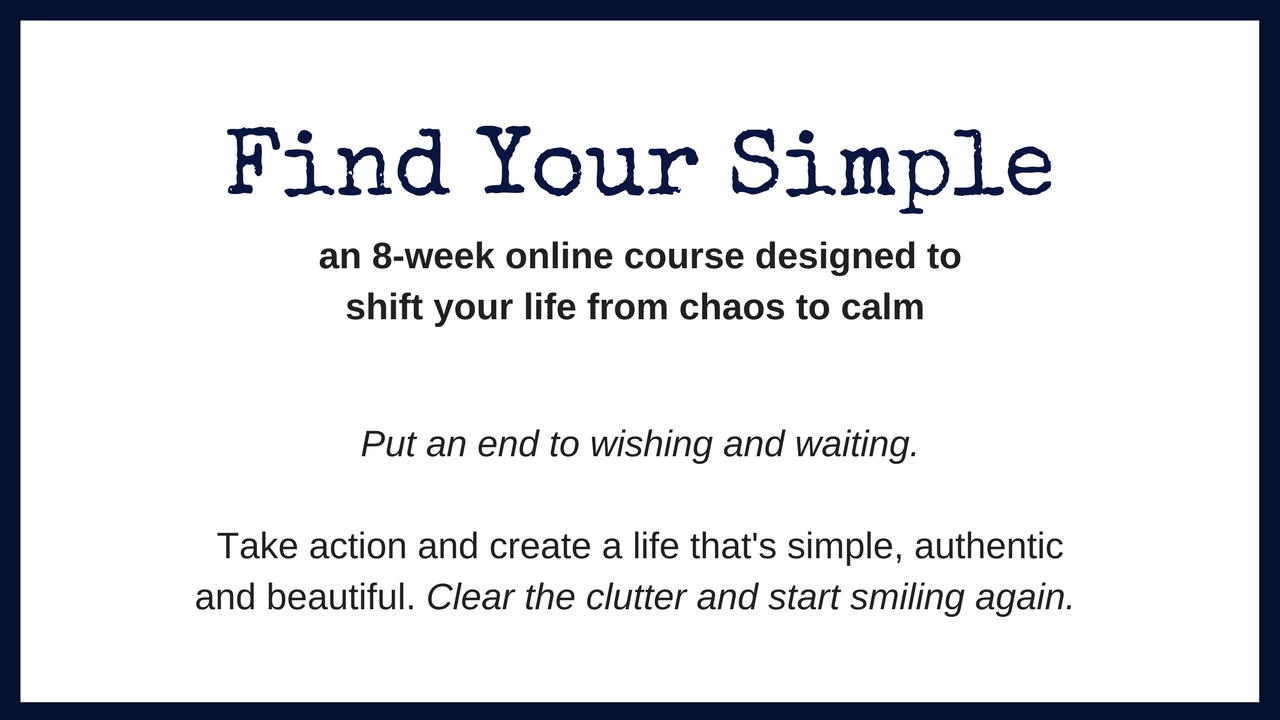 Do you often reach the end of the day feeling utterly exhausted and defeated?

Always feeling like there is too much to do and not enough time?

Every minute is filled with tasks. There is never a chance to catch up, let alone get ahead.
You keep telling yourself that next week will be different!
You're stressed and irritable.

Intellectually, you know this is no way to live... yet, the cycle continues.
Nothing seems simple.
You want to make changes, but you're so locked in
to this frenzied pace that you have absolutely no idea
where to begin. You feel completely stuck.
I'm guessing that you want life to slow down.
Being hyper-busy isn't enjoyable.
You dream of a calmer pace.
What if you were given the tools and guidance needed
to turn the chaos into calm and finally get your act together?
Right now, it seems like everyone is hungry for 'simple'.
Maybe you're curious about a life that celebrates simplicity...but you definitely aren't interested in becoming a minimalist.

You'd just love to find a way to simplify your life so that you could have more fun!
You long to experience the freedom that comes with creating a flow that works.
---
I believe that a simpler life is a happier life. I've found this to be entirely true in my own life and in the lives of my clients.

It is possible to live in today's overloaded world and embrace a slower, more effortless way.
You don't need to live in a tiny house or wear a capsule wardrobe (though both of those things are wonderful if that's what you choose).
You can have a full life that doesn't make you crazy...
You just need a handful of proven techniques
and strategies to make it happen.
I'm finally living a life that's authentic and simple, usually stylish and often profound.

It's a life I love!

I couldn't always say that.
Less than a decade ago, I was a mess.
And not the hot, beautiful kind.
---
Here's the nutshell version of how I lived my life…

I'd become a pro at playing it safe and small.
I knew I wanted more, but kept hesitating, unsure of where to even start.
My home was a reflection of the chaos I was living. I repeatedly vowed that tomorrow I'd begin creating a space I loved.
I was a textbook case; wearing 20% of my wardrobe, 80% of the time. My style was undefined and I didn't love anything in my closet.
Rewriting lists was my favorite pastime and organized clutter was my soulmate.
My go-to mode was frazzled and frenzied. My life felt anything but simple.
I regularly reserved the good stuff (clothing, moods, stationery, candles, etc.) for later… as tomorrow would surely be 'better', so I'd save 'special' until then.
I'd cruise along, looking like my act was together until the spinning plates toppled… overwhelmed and defeated, I'd vow to make the necessary changes. But I was ruled by fear and rarely took action.
My go-to move was to hold back...never quite showing up fully.
I was always afraid, always resisting.
What I thought were good reasons, were really just excuses.
After years of making myself (and everyone around me) a little nuts, I discovered a better way. It wasn't a straight shot and it definitely wasn't easy, but it was the best thing I have ever done.
Through countless hours of researching and soul-searching…
I learned hundreds of techniques and strategies for clearing out mental and physical clutter.
I discovered methods for simplifying that allow real clarity to surface.
I carefully and intentionally created a life that's simple, authentic and beautiful.
And then, I created a system to help other women do the same.
This Master Class is that system.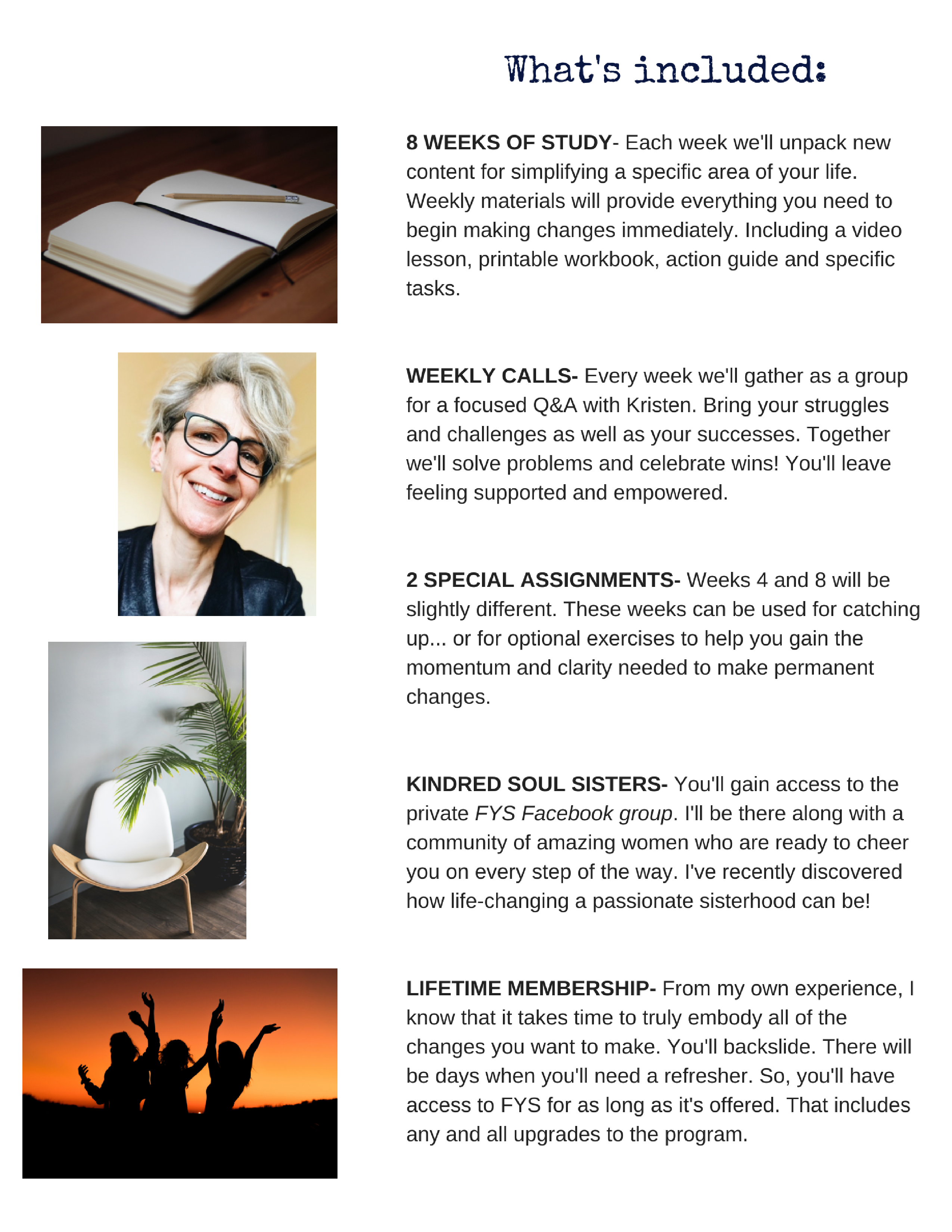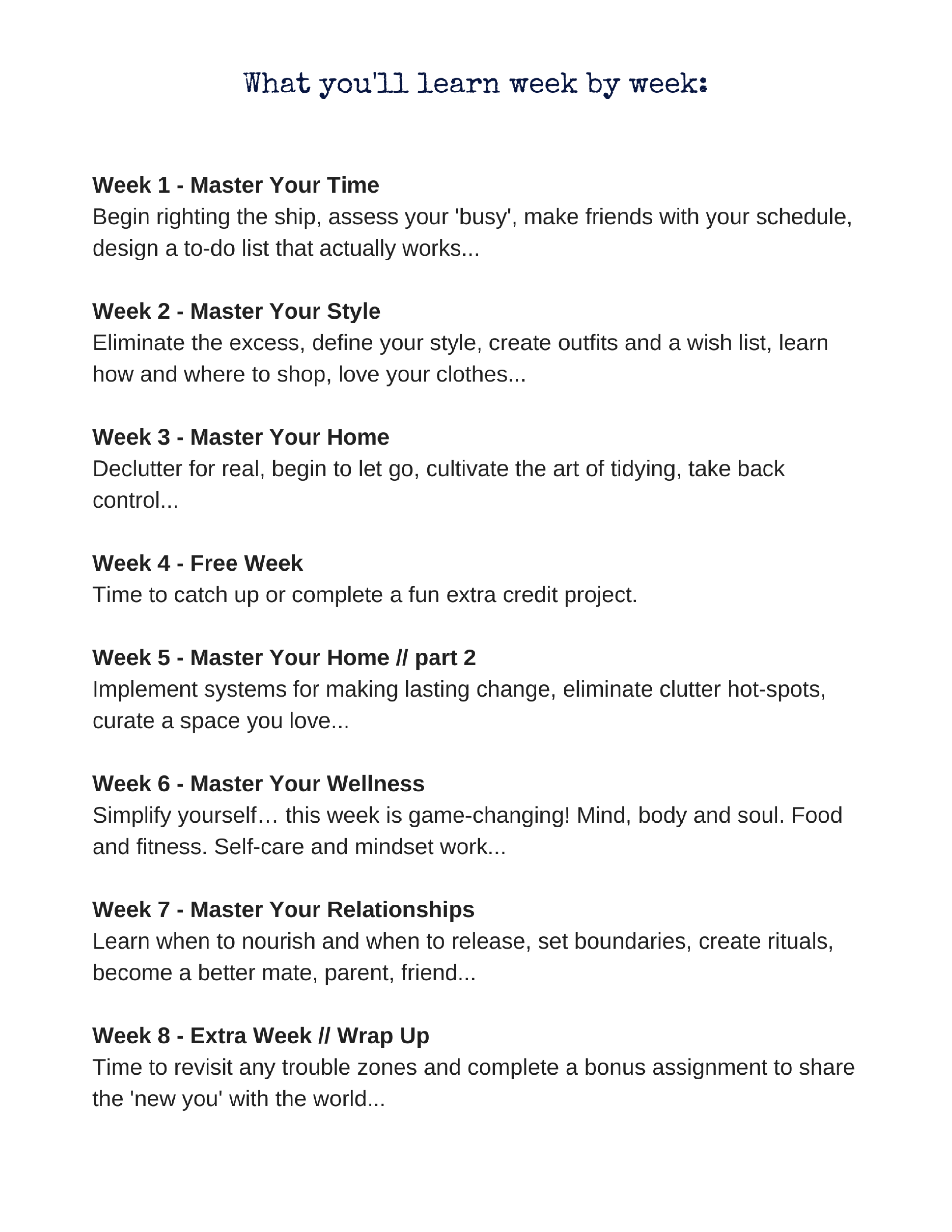 Your Instructor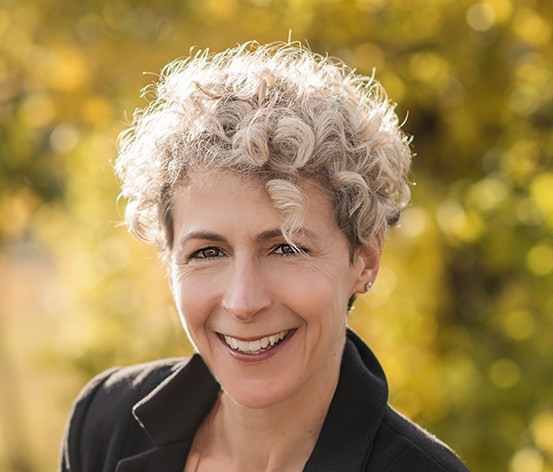 Technically, Kristen is a Personal Stylist...but she's really a lifestyle coach and a cheerleader helping women create a simple, authentic, beautiful lives... often starting with their wardrobes.
She does this work in a few ways; as the stylist at Anthropologie in Boulder, Colorado, as the owner of The Together Act, a personal coaching company... and also through her blog, Excited Chills and YouTube channel.
After decades spent in fitting rooms and closets, Kristen discovered that most women are yearning for the same things... effortless style, obtainable joy, peaceful surroundings, a manageable schedule, nourishing relationships and a general sense of true, authentic well-being.
Thought it sounds like a tall order, Kristen believes that the life we dream of is within reach. All it takes is brave clarity, gentle guidance, effective techniques, intentional steps... and an open mind. Kristen supports the idea that our thoughts create our reality and she brings this awareness to her coaching.
When she's not helping other women find their simple, Kristen thrives on time spent with her three (tall and awesome) teenage children and her (hot and incredible) husband of 20+ years. She is always seeking ways to bring balance to her life, find joy in the little things and cultivate gratitude.
Frequently Asked Questions
When does the course start and finish?
The course starts on Friday, May 4th and runs for eight weeks. Each week will include a lesson and a group coaching call. If the group timing doesn't fit for you, you're welcome to work through the material at your own pace, as your schedule allows. Just know that being part of the community truly makes transfomation more fun!
How long do I have access to the course?
How does lifetime access sound? After enrolling and once the course opens, you will have unlimited access to this course for as long as it's offered. You'll be able to revisit the materials whenever you need a refresher.
What if I can't attend the live calls?
No problem. All coaching calls will be recorded and shared shortly after. You'll have the opportunity to submit your question or victory prior to the call. And you can always receive immediate love and support on the FYS Facebook page!
What if I want to enroll, but can't really afford it right now?
I can relate. There will always be limited time, limited money and that voice in your head saying, "Not now, maybe later". The reality is that we make time for what matters, we find a way to invest in what's truly important and we benefit from ignoring the voice that holds us back. If you're feeling the tug to join us, I'd take that as a sign that it's your turn. I had all the same thoughts and struggles before making a big decision last fall. A friend told me to leap. My gut told me to leap. I did and haven't regretted it. ALSO, please keep in mind that this is the INTRODUCTORY version of Find Your Simple. As such, it's being offered at an incredible discount. When the course launches again, the cost will be between $800-$1000.
What if I am unhappy with the course?
We would never want you to be unhappy! I've poured my heart into this program. I know how life-changing the lessons have been for my clients and for me. I'm so confident in this material, that I offer a 100% happy guarantee for the first 30 days. All I ask is that you give the process an honest try. If you're still not loving it, simply send me an email letting me know that you're not satisfied and include your completed workbook pages to date. I'll happily refund 100% of your investment.
When will this class be offered again?
It hasn't yet been decided when the FYS/Master Class will be released again. Most likely the next enrollment will open in the fall of 2018.
Is this considered a beta course?
While this is the first time the Find Your Simple//Master Class is being offered, it is not specifically a beta course. The course content is ready to roll, but will certainly be tweaked based on student needs. We welcome your feedback as you work through the material so that we can continue to make improvements to the course. Because it's brand new, FYS/Master Class is being offered at a steep discount. The next time it's released, the price will be between $800-$1000.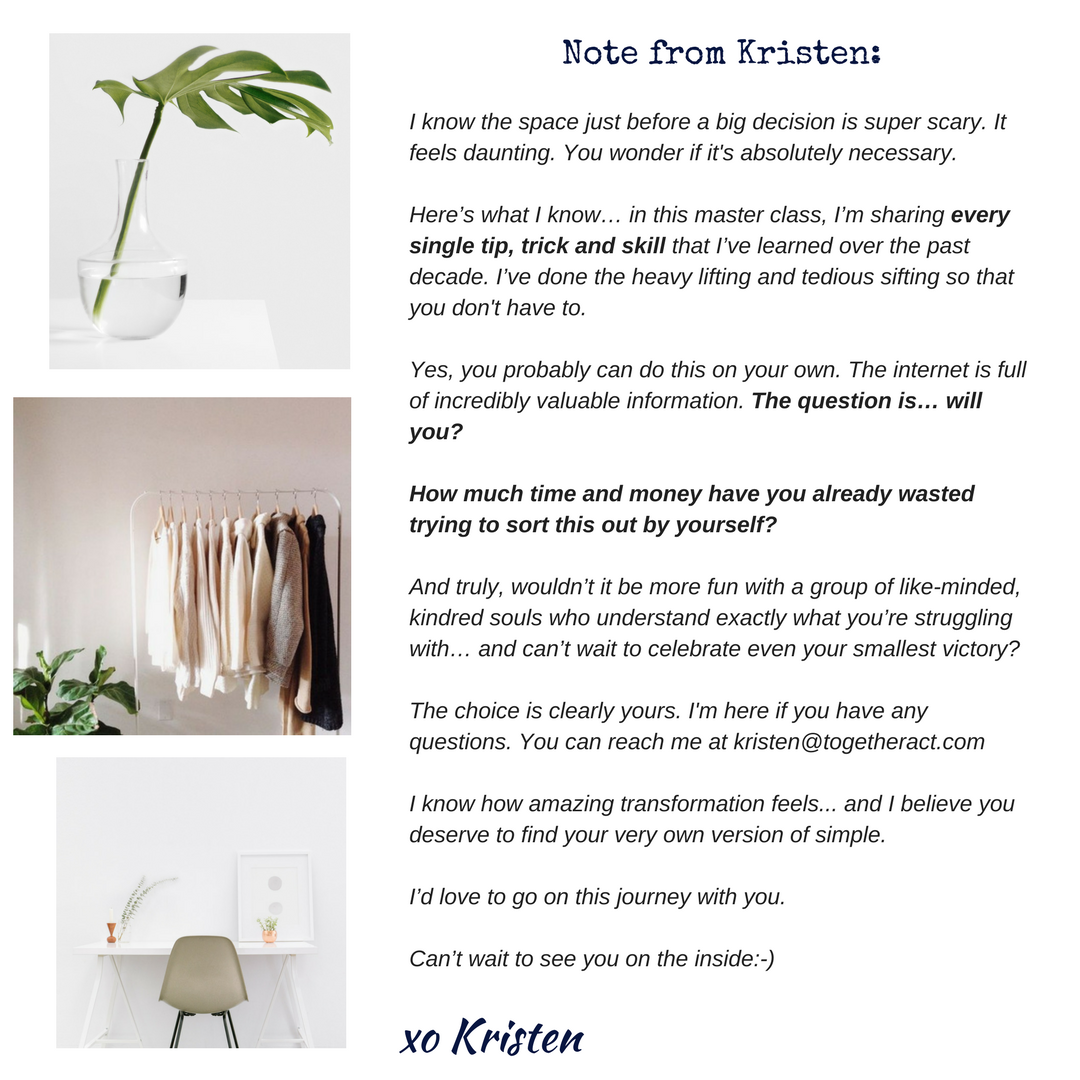 Feeling the pull to change your life?
Let's do this...
This course is closed for enrollment.